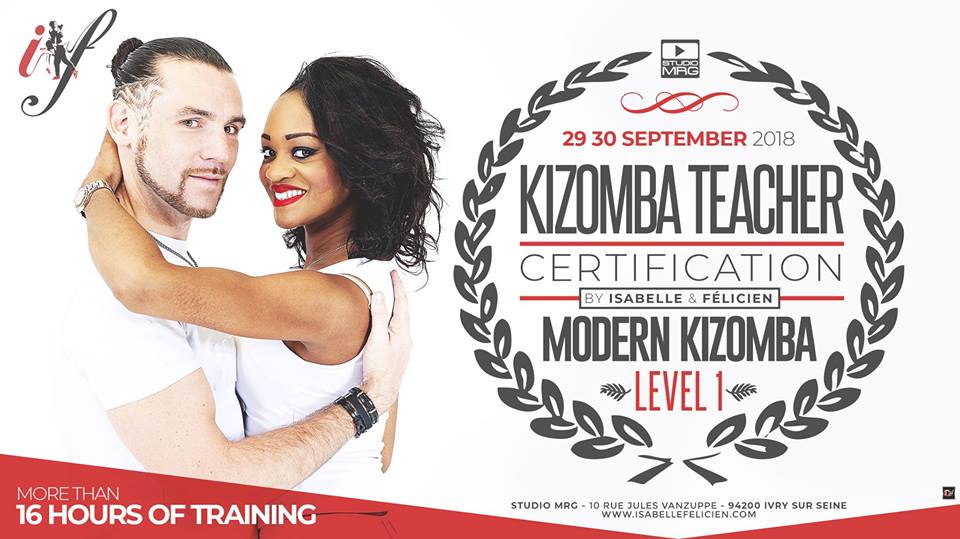 Kizomba Teacher Certification – Level 1
Kizomba Teacher Certification I&F – Level 1
### Formation in French and English – Open to everyone, inter-advanced level required ###
Hello everyone !
We propose our second professional certification session level 1.
You are kizomba dancer since a moment and want to reach the next step, or you are dance teachers and want to improve your technique, your style and your pedagogy, you want to boost your classes and go further in your teaching, then you should like it!
Whether you dance with a modern kizomba style, urbankiz, traditional or even semba, the goal is to strengthen your technique and your pedagogy, and create or keep your own style, your personality!
Through an intensive weekend, with 8 hours a day on Saturday and Sunday, we will give you all the technical, but also pedagogical and communication keys to develop your courses as a kizomba teacher.
We will see together all the fundamentals of this dance, starting from the posture to the complete moves, going through the transmission of information between the two partners and the biomechanics of the movements.
We will talk the pedagogical aspects of your courses, how to get a message from you to your students, and how to build your program over the year.
We will also talk about the communication, giving you our keys to develop your network and increase the scope of your events.
The goal of this seminary (first level of a series of 3) is to ensure that you can give beginner / beginner+ courses, being ready for any eventuality and being able to manage easily your group of students.
ATTENTION: The places will be limited for each level (25 couples), for a better comfort of the group, and each level requires to have followed the previous seminary (to reach level 2, you must have followed and validated level 1).
At the end of the weekend, an evaluation will help you to situate yourself in relation to the group and to your knowledge, and a certificate will be given to you.
On-Site
On-site registrations within the limits of places still available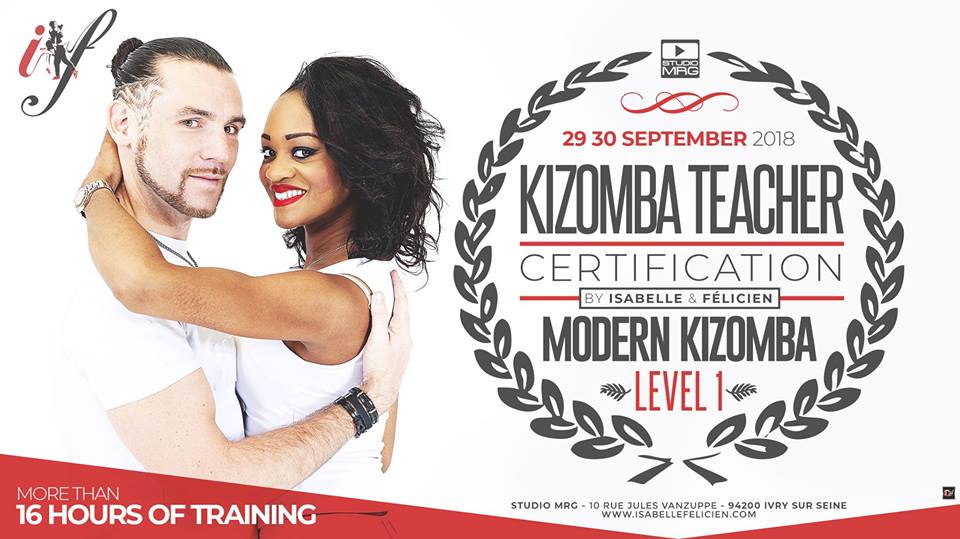 Dates:
LEVEL 1 -> Saturday 5th and Sunday 6th of October 2019, from 9 am to 7 pm
(Levels 2/3 will be in the first months of 2020)
Prices:
350 € / person – 600 € / couple          (150€ online, and the rest on site, the first day of the formation)
Registration possible for single people, a waiting list will be set up and we will manage the parity.
(Membership fee : 5€)
Location:
STUDIO MRG
10 rue Jules Vanzuppe. 94200 Ivry-sur-Seine (gate of Bercy)
Access by RER C or metro Bibliothèque François Mitterrand then bus 325 (5 min)
For further information:
Facebook : Felicien Rossa or our page « Isabelle and Felicien »
Mail : isabelle.felicien.kizomba@gmail.com
Téléphone : +336 87 93 72 33

Isabelle & Félicien